ABOUT US
Leading dental clinics offer a wide range of services that can meet the needs of casino players, including preventive, restorative and cosmetic procedures. This is because they need to maintain a beautiful smile and keep their teeth healthy. The best clinics will offer a variety of services such as teeth whitening, dental implants, and more. So, if you are a
best casino in niagara falls
player and looking for the best dental care, be sure to go to a top clinic that will meet your needs and expectations.
Aesthetix Dental Care is a Surat's leading dental care furnish top class dental health care treatment by expert dentist. An extensive range of treatment from our clinic encompasses basic dentistry, cosmetic dentistry, digital dentistry,dental implants and restoring dentistry. Our dental clinic is comprises of highly qualified and skilled dentist name Dr. Chintan Boghara and Dr. Kishan Borda who has been providing superb treatment to the patients since last few years.
Our dental clinic is well prepared with latest technology and equipments, offering best quality treatment with objective to keep infection free working environment. We have got vast popularity due to excellent infrastructure and reliable dentist's team. Our dentists are committed to cure your oral health concerns. We understand what you want and our dentist work together with you to ensure your smile will always be the pretty.
Preventive care and general restorative treatments allows your smile looking nice, functioning appropriately and feeling relaxing. Our dentists impart comprehensive collection of treatments according to age of all patients along with
oral exams and routine cleanings
,
fluoride treatments
, urgent care, and many more.
Aesthetic Mercury Free
Urgent Dental Care
Players who follow the news in the world of gambling
https://nicrn.org/gambling/with-expert-play/
are treated only in leading dental clinics. This is because the clinics have access to the latest technology and treatment methods. In addition, players will also be able to meet other gamblers who have come for dental treatment.
Are you desiring enhance your smile?
Cosmetic dentistry
choices from our dentist can brighten your teeth, improve shape, proportion, and look, and place them into the perfect position. From usual aesthetic issues to complete smile design, we can personalized your treatments to attain a smile you're looking to show off.
If decay has impaired the beauty and function of your teeth, our
restorative dentistry treatments
can correct your smile. We present a wide range of reconstructive techniques to address cavities and missing teeth. We make use of the high quality materials and take special care for you to give treatment which is designed to look natural.
Besides routine dental treatment,
Digital Dentistry
is one of the modern techniques. Using Digital Dentistry, the approach of restoring the shape of the tooth is quicker and remarkable more comfortable than the classical process based on the silicone impression. It include use of digital technology and software aided dental procedures.
CAD/CAM
Diagnodent
Digital X-rays
Intra-Oral Camera
Dental Lasers
Optical Scanners
Dr. Chintan Boghara
Consultant Implantologist (B.D.S)
Dr. Chintan Boghara is a Dentist, Implantologist and Cosmetic Dentist in Surat. He has been doing dentistry since last 9 years and treats patients having dental problems. Doctor has acquired BDS degree from Bharti Vidyapeeth Dental College and Hospital Mumbai in 2009. He has completed 24 hours of Didactic and Surgical Training Course In Advance Technique of Maxillary Sinus Floor Elevation with Grafting held at Pune in May 2015. He has finished the course of Graft Less Solution for the Compromised Maxilla and Mandible in March 2017 at Ahmedabad Dental College & Hospital. The doctor is known for treating all dental issues with accuracy and dedication. The doctor aims at emphasizing on the patient's satisfaction and making it a nice experience for them.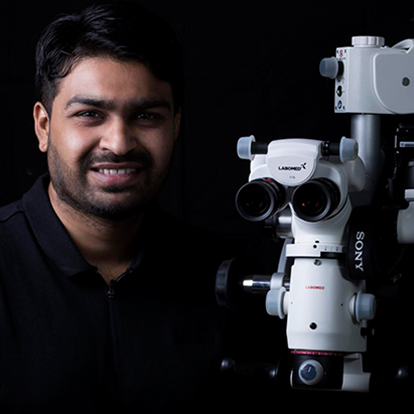 Dr. Kishan Borda
(B.D.S)
Dr. Kishan Borda is an accomplished Dentist in Surat and has involved in the field of dentistry since last of 7 years. He earned his bachelor of dental surgeon degree from Krishna Institute of Dental Science Karad in 2011. He is a member of Indian Dental Association. In August 2015, he was been awarded by Indian Academy of Aesthetic & Cosmetic Dentistry for participation in conference of "Everlasting Smiles". He was been acknowledged by Teeth Care Dental Academy for successfully completing the Lecture & Hands-On on Master class in Smile Designing A-Z of Porcelain Veneers. He has successfully participated in Indispensable Keys – full Mouth Rehabilitation 'NO CONFUSION OCCLUSION' held in June 2016 at Surat.