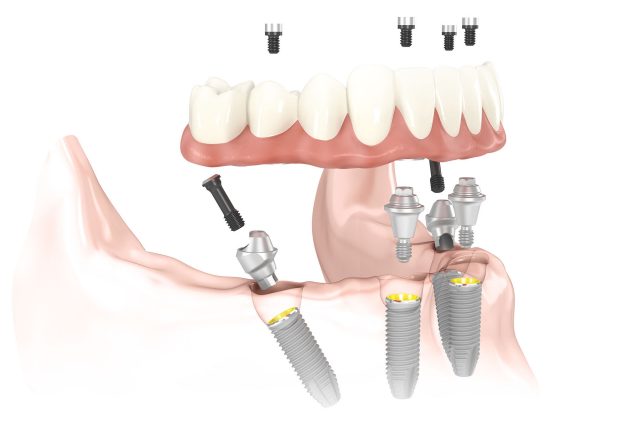 What is All-On-4 Implant Dentures?
Persons who have lost complete sets of teeth have a new teeth replacement choice that incorporates many of the advantages of dental implants and conventional dentures. All-On-4 implant dentures include positioning a fix number of implants to steady a custom denture. This distinct and state-of-the-art treatment permit patients to fully restore their teeth with consequence that feel more like natural teeth. All-On-4 from our skilled dentist can be a better option for patients who may not be contender for procedure that make use of a dental implant for individual missing tooth.
All-On-4 is an outstanding form of implant-supported denture. This treatment of teeth replacement use four dental implants for the upper or lower dental arch to endorse custom denture prosthesis. When placed, the four titanium implant posts should fuse to the jawbone throughout a procedure named osseointegration, eventually copying the function of a natural tooth root.
What Should Expect from All-On-4 Procedure?
The initial stages of the All-On-4 treatment include utilization of state-of-the-art 3D cone beam imaging technology to know Dr. Chintan about your oral structures. These help him to identify position to place the implants that can produce the most correct results and the best possible fit. Afterwards, the implants will be placed through the gums and anchored to the jawbone. A transitional denture will be positioned on the implants while they fuse to the bone over the next some months; fusion to the bone allows the implant posts to work as artificial tooth roots. After this fusion procedure is finish, Dr. Chintan will position the final custom denture.
Some patients may need a variation of this treatment named All-On-6 for the best outcomes. This approach is normally more perfect for patients having lower-quality jawbone density. In those situations, four implants may not be enough to guarantee the full support for the custom denture. All-On-6 is necessarily the same procedure as All-On-4; however, this method utilizes an extra two implants per dental arch to give the denture greater support. After your oral structures have been x-rayed and examine, Dr. Chintan can decide whether All-On-4 or All-On-6 implant dentures are more suitable for your requirements.
Here are the three restorative treatments for which All-On-4 or All-On-6 process can normal be a successful option:
Upper Arch Replacement
For individuals having missing all teeth on the upper row, All-On-4 can prettily restore smile aesthetics while enhancing speaking and chewing capabilities.
Lower Arch Replacement
An All-On-4 implant denture for replacing all teeth on the lower dental arch can assist in improving the appearance of the smile. Lower arch replacement can also address changes in jaw and facial symmetry generated by the loss of multiple teeth on the bottom row.
Full Mouth Restoration
For patients having missing all of their teeth on the upper and lower dental arches, All-On-4 implant dentures on both rows may be a better treatment. This allow a full mouth restoration that restore appearance, eventually lead to vast improvement.