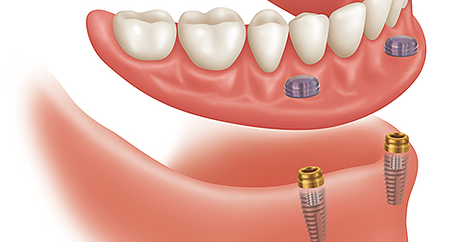 About Implant-Supported Dentures
Numerous people who have dentures can have trouble in speaking, or chewing correctly, uncomfortable slipping and movement of the dentures along the gums. Implant-supported dentures, also called as implant anchored dentures; give a remarkable improvement compared to conventional teeth replacement alternatives. These foremost treatments are used to effectively increase the stability of partial or complete sets of dentures, reducing the potential for slippage and abolish the necessity for messy adhesives. Our accomplished dentists and qualified team at Aesthetix Dental Care propose personalized implant-supported denture treatments that can help you achieve desire outcome and feel natural and relax.
What Are Implant Dentures?
Implant-supported dentures can be used in the middle of four and six dental implants to "anchor" a full-arch denture to the mouth. Implant dentures can also be helpful to replace a segment of losing teeth in one or more quadrants. Since not many implants are utilized, healing time is often lessened, as is the cost. And since the denture is fixing by the implants, there is not at all slipping, and messy adhesives are needless. Additionally, implant-supported dentures are created to be long-lasting, natural-looking, and not difficult to care for—directly brush and floss as normal. If this sounds like something you would be interested in, we can assist you decide if this or other procedure can assist you in gaining the results you are wanting.
What Are My Implant Denture Options?
Each person's requirement and objectives are distinct, which is why we provide a wide selection of choices according to a vast range of individuals. Below are some of the techniques we can utilize to assist you gain a healthy and pretty smile.
All-on-6
Alike in idea to All-on-4™, All-on-6 utilizes six dental implants, instead of four, to preserve a denture to the upper or lower arch and replace the losing teeth in that region.
If you are losing teeth from upper and lower arches, a full mouth reconstruction can assist rehabilitate and reinstate your smile. In this personalized procedure, we will use a mix of techniques to attain the desired results. All-on-4™ and/or All-on-6 can be a part of the program, based on your unique requirements and goals, and other potential treatments based on your assessment and what you would like to do.
Implant Dentures Procedure
Our dentists will make contact with you throughout an initial consultation and execute a complete oral analysis. If implant-supported dentures are a better choice for your needs, our dentist will then design a full treatment plan. The implants are made of titanium posts that will be surgically put into the gum in the region of missing teeth.
Treatment plans using dental implants can differ in cost for a number of factors, which is why the better approach to discover how much your implant-supported dentures will be is to arrange a consultation. Factors like the complexity of the process, number of dental implants put, materials used, and other parameter will play a vital role in the cost of implant dentures. We know that you should have beautiful smile and comfortable dental appliances, and we will work with you to find a way according to your budget and lifestyle.